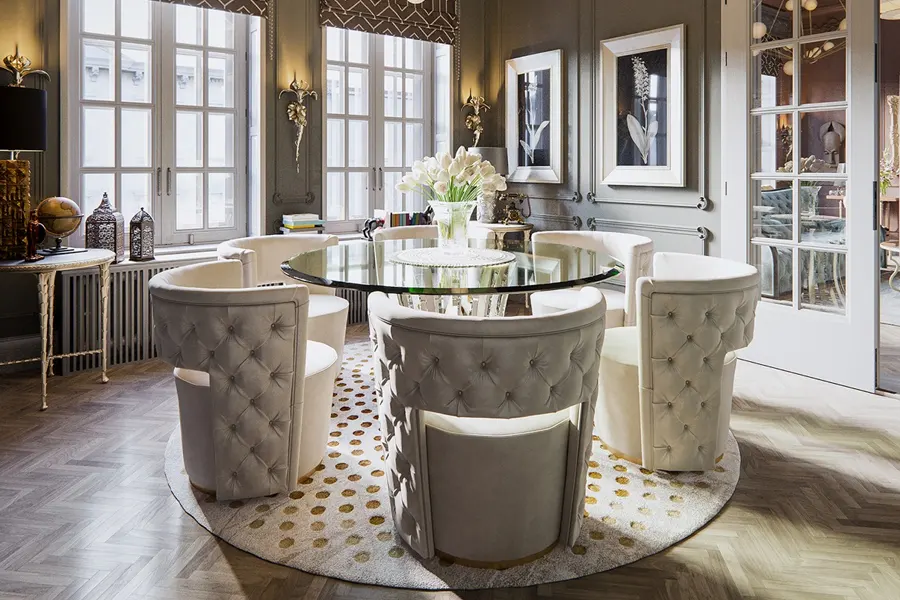 The family gets together for regular meals and special celebrations in your indoor dining space. You can make this space comfortable and practical for entertaining and enjoying delicious meals together or with friends. Waunakee interior design services can help you select furniture and décor that suits your space.
Dining Room Furniture Waunakee Interior Design Services
Dining room furniture Waunakee experts can show you how to arrange rectangular or round dining sets and upholstery in ways that make your home's eating space look beautiful. Here are the top three pieces of furniture to consider when setting up your family dining space.
Table and Chairs
A dining room six-seater table is the number one furniture set for many American families. You may buy dining sets from a garage or auction sales at a lower price, but the chairs can be wobbly and dull. Furniture experts such as Waunakee Furniture ETC offer quality dining tables and seats in unique styles. Their designs include the Sheffield boat dining set, Shenandoah round set, Justine dining set, and more.
Room Display Cabinet
Use your display cabinet to show your glassware and champagne or favorite collectibles such as figurines. Glass display cabinets can give your dining area a sophisticated look, and your visitors know what glassware or Champaign to choose. If you have many collectibles to show, you can consider a Sophie display cabinet from Waunakee Furniture ETC. It is an elegant dining room piece styled with wood-framed glass end panels, and a mirror back panel and has ample storage space.
Buffets/sideboards
Sideboards come in handy when you need low storage for your china next to the dining table. You can consider an antique gray buffet with rare beauty and unique features if you want to experience a personal emotional connection with your piece. While not all sideboard cabinets have glass doors, many have drawers for extra storage of smaller table items such as linen and cutlery. Some homeowners prefer to use sideboard tops to display decorative vases or keep bags and keys accessible.
Conclusion
Dining room furniture Waunakee experts offer state-of-the-art furniture and accessories that last a long time. You can choose from a wide range of furniture, including bar stools, dining hutches, chairs, bookcases, recliners, and more.