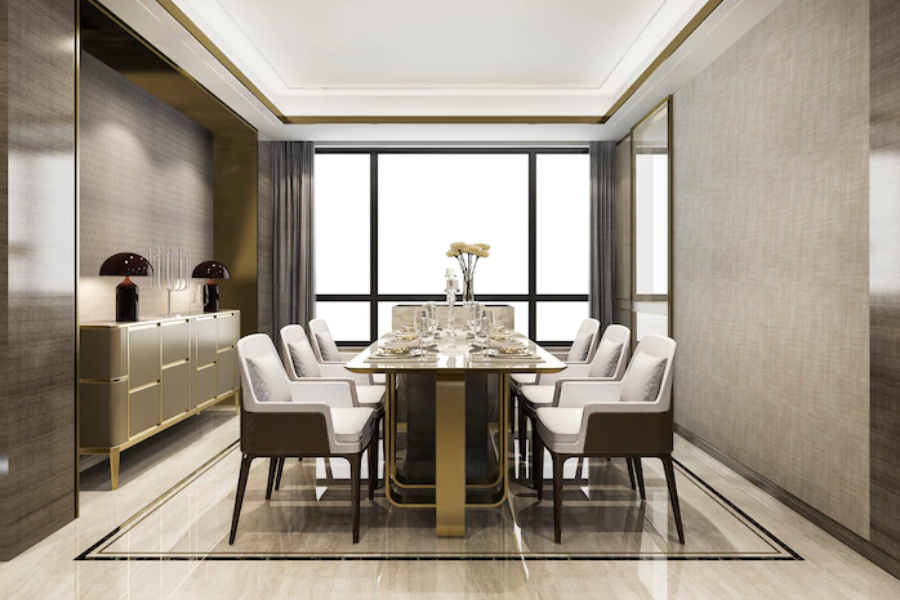 Having a dining table and chairs in your home enables you to provide your family with an organized sitting area during mealtimes. Sitting at a dinner table helps you to focus on your food and enjoy your meal. The dining table experience can contribute to better eating habits that promote improved digestion. A leading interior design service provider, Smith Brothers Dealer, Madison, offers three types of top trendy dining furniture, including:
1. Round Dining Tables
Many homeowners consider round dining tables because the smooth circumference is child friendly. With a circular design, no one at your dinner party feels isolated. All your guests or family members feel included in the conversation because, at a round table, everyone can see clearly and hear the other seated parties.
Parkdale round tables from the Smith Brothers Dealer do not come with sharp edges. You can choose from three sizes, 48″, 54″, or 60″, all around. Smith Brothers Dealer offers different wood-type options for Parkdale dining room pieces, including oak, character cherry, soft maple, walnut, maple, hickory, and white oak.
2. Display Cabinets by Smith Brothers Dealer, Madison
Among the top three trendy dining room furniture is a sleek see-through cabinet. Smith Brothers Dealer, Madison designers, use oak veneer and hardwood with wooden frame glass-end panels, mirror back panels, glass shelves, and doors to construct the tables.
The Sophie display cabinet from Smith Brothers Dealer, Madison, is ideal for storing your beautiful china and glassware. You can also showcase objects like ornaments, figurines, art, trinkets, or liquor.
3. Side Chairs
An armless chair is a perfect choice for hosts to provide additional dining table seating because you can move and rearrange your side chair to suit your occasion easily. You can find stylish and functional side chairs such as the Sheffield sidechair, which are good decorative accents and can fit in smaller places.
Smith Brothers Dealer, Madison, offers many style designs of side chairs constructed from quality hardwood, such as walnut, maple, oak, and hickory.
Conclusion
Dining tables, side chairs, and display units help you organize your living space to provide comfort for your family and friends. Smith Brothers Dealer, Madison, offers state-of-the-art dining room furniture, including circular tables and wood-framed glass display cabinets in different sizes. Trendy dining room furniture and many more products can be found at the Waunakee Furniture showroom because we are an official Smith Brothers Dealer in Madison, Wisconsin.